The Ship Stars – Bintoéng kappala'é
REGION
Bugis / Indo-Malay
OBJECT
Ursa Major
SOURCE
Adapted from Gene Ammarell, Astronomy in the Indo‐Malay Archipelago (2008).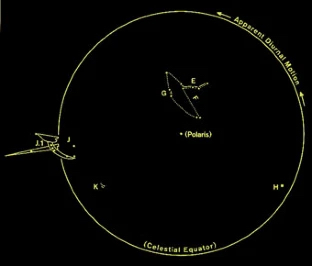 In the northern sky, the asterism that figures most prominently in Bugis navigation is known as bintoéng kappala'é, "the ship stars" in the international constellation of Ursa Major (E & F). The "ship" is used when traveling north and is known to rise "northeast" and sets "northwest" over Kalimantan from the port city of Makassar and from Balobaloang. Associations of this group of stars with the hull of a boat or ship appear to be common throughout the region.

The two stars of balu mandara "widow of the Mandar" (G) adjoin the "ship" and are likewise used to navigate northward. These two stars, Alpha and Beta Ursa Majoris, remind the Bugis of Alpha and Beta Centauri (thus the name balu), while "Mandar" recalls their northern seafaring neighbors.

See also: Plough Stars
Several other asterisms and a planet are used for sailing east and west. Of interest also is "the plough stars" (Alpha-Eta Orionis), bintoéng élé' "morning star" (Venus in predawn sky) and bintoéng bawi "pig star" (Venus in evening sky) — so named since it is believed that wild pigs will enter and destroy a garden or orchard when this object shines brightly in the west.

Interestingly, both the "pig star" and the "plough" speak to an agrarian lifestyle not practiced by Bugis seafarers but culturally shared with their kin who farm the lands of South Sulawesi as well as other islands of the archipelago.