Pufferfish, Spear and Fisherman – Bunta, Sahapang and Anakdatu



REGION
Philippines

OBJECT
Southern Cross, Beta Centauri, Alpha Centauri

SOURCE
Adapted from Dante Ambrosio, "'Mamahi:' Stars of Tawi-tawi", Philippines Daily Inquirer, January 26, 2008.



Star groups are named after objects which are familiar to a particular culture. Thus, in naming stars, a particular group of people puts its own mark—its own culture—in the sky complete with stories that also bear its identity. It thus becomes "natural" for the stars of Tawi-tawi to display the characteristics of a culture nurtured by watery surroundings. Kagang (crab), Pagi (stingray), Bunta (pufferfish), Sahapang (three-pronged spear), Bubu (fish trap), and Anakdatu (fisherman) are all related to the sea by their nature, use and activity. This cluster of stars (Alpha Centauri, Beta Centauri and Southern Cross) resembles a fishing scene—Anakdatu (child of a chieftain), the fisherfolk, using their Sapahang (spear) to catch Bunta, a pufferfish.

Bunta is used in crossing the Sulu Sea from Mapun near Palawan to the capital town of Bongao on the Tawi-tawi mainland. To reach Bongao, the pilot with an outstretched arm must keep Bunta one dangkal (from the tip of the thumb to the tip of the middle finger) to the left of the boat's prow. If the prow veers to the left by a dangkal, it will reach Languyan instead which is at the northern end of Tawi-tawi. But if it veers to the right, the boat will land at Sibutu which is at the southern end of the archipelago.

Together with stars, winds are also used to mark direction. Satan or salatan, the south wind, is associated with Bunta, the puffer fish. The heavenly fish releases the air from its puffy body once it ends its seasonal appearance in the night sky and sets to the southwest. The hanging salatan (southern wind) is the air from its body.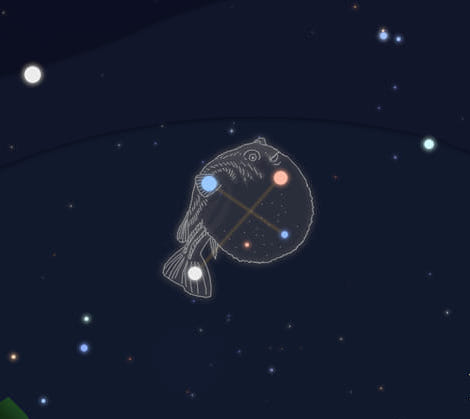 Image: Astronomy in Mindanao